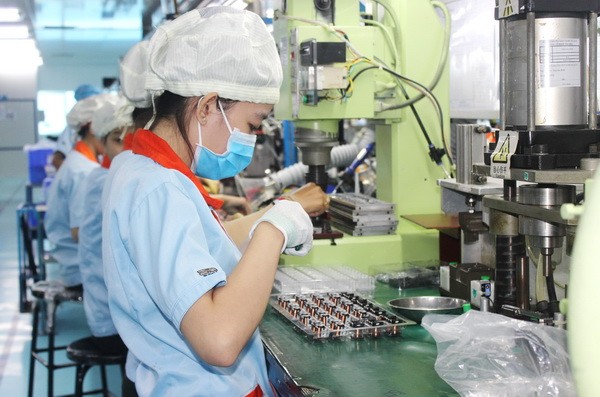 Nhon Trach Industrial Park 3 in Nhon Trach district has been filled and is expanded the second phase. In the photo, a new factory has been put into operation. (Archive Photo/baodongnai.com.vn)
Dong Nai now has 30 industrial zones in operation, the most in Vietnam, many of which have been filled. The province is giving priority to hi-tech projects involving skilled labor, and environment-friendly practices, and projects in support industries. Despite setting stricter conditions, Dong Nai continues to enjoy impressive growth in FDI attraction.
Last year it aimed to attract 1 billion USD worth of FDI capital but in fact it saw an influx of over 1.25 billion USD.
In the first 8 months of this year, Dong Nai received nearly 1.2 billion USD in FDI, surpassing its yearly target by 20%.
Woosung Vietnam, a Korean animal feed processor operating in Bau Xeo Industrial Park since 2005, has increased its total investment in Dong Nai to 18.6 million USD.
Woosung Director General Kim Seung Hee praised the province's favorable land lease terms, incentives, and market, adding: "When we began operating, the government helped us very a lot with market studies and pilot cooperation. The land lease rate was very cheap. We think Dong Nai has a very good investment environment."
Dong Nai informed businesses of its more selective policy in advance. According to the provincial Industrial Zone Management Board, the selection of FDI projects follows a global trend toward safe, environment-friendly production.
Mai Van Nhon, the Board's Deputy Director, said: "The Prime Minister made an impressive statement at a recent Business Forum: "each dollar invested by investors is a vote for Vietnam's facilitating government". That's the case in Dong Nai. We think when investors invest in the province, they must have a strong faith in our working methods."
Nguồn: vovworld.vn