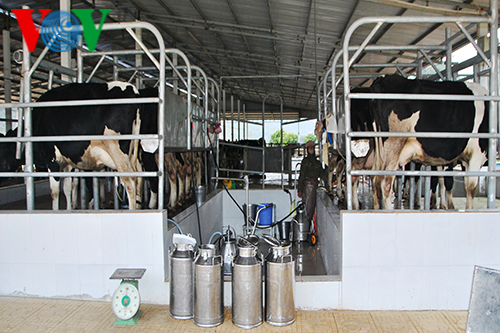 (Photo: Bich Thuy/VOV)
As of early this year, 100 hectares of mangos, oranges, and grapefruits, and more than 400,000 kinds of seedlings provided by the Mai Son Longan Cooperative in Son La province had been awarded VietGAP certificates.
All stages of cultivation – planting, pruning, fertilizing, spraying pesticide, and culling damaged fruit must comply with VietGAP standards to earn certification.
Nguyen Van Phong, Director of the Mai Son Longan Cooperative, said most of the cooperative's fruits are contracted in advance by supermarkets in lowland provinces.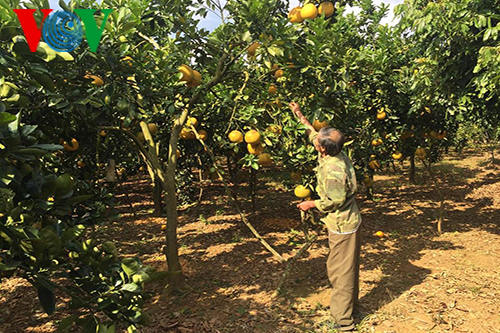 Nguyen Huu Trinh, a cooperative member, at a high-quality orange garden. (Photo: Bich Thuy/VOV)
Nguyen Huu Trinh, a resident in Chieng Mung commune, said: "We're glad to turn out safe farm produce. Everybody should use certified products."
The Moc Chau Dairy Company is among the top dairy businesses in Vietnam. It produces the popular Moc Chau brand milk. In addition to applying the VietGAP standards for in production, all the dairy farms in Moc Chau have mechanized their facilities and vehicles. Nearly 600 cattle farms raise more than 23,000 cows in line with international standards.
According to Tran Cong Chien, the company's General Director, "Quality is vital to the company so we have applied the VietGAP standards for raising dairy cattle, and have received VietGAP certification. We apply ISO 9001 2008 standards in processing. We'll constantly improve food safety and hygiene and develop organic products. We have combined the raising of dairy cows with tourism development on the Moc Chau Plateau."
Those are two examples of high-tech agricultural development in Son La. Son La now has 47 chains of production, supply, and distribution of safe farm and aquatic products. The province's agricultural exports have increased dramatically. Exports of both tea and cassava starch are up 12%. Mangos, longans, passion-fruits, and garden lettuce have been exported to demanding markets in Europe, Australia, the US, and South Korea.
These results were achieved by using high-tech agriculture, production restructuring, and building efficient supply chains for key farm products.
New farming techniques and high-yield seedlings have been widely distributed to farmers. The success is also due to the adoption of the Israeli drip irrigation model, liquid fertilizers for coffee, tea, and fruit trees, better trade and investment promotion, and brand building.
By 2020, Son La hopes to have three recognized high-tech agricultural areas, at least two agricultural enterprises recognized for using high tech, and high-tech agriculture accounting for 25% of the province's total agricultural production value.
Cam Thi Phong, Deputy Director of the province's Agriculture and Rural Development Department, said: "First of all, we need to ensure that high-tech agricultural development planning takes into account local conditions. Second, we need to transplant high-quality and insect-free fruit trees and adopt high-tech farming techniques. Third, we need to promulgate policies that support the research and application of technologies in large-scale production and ensure sustainable consumption. Finally, we need to attract more investment in high-tech production and processing businesses."
Nguồn: vovworld.vn