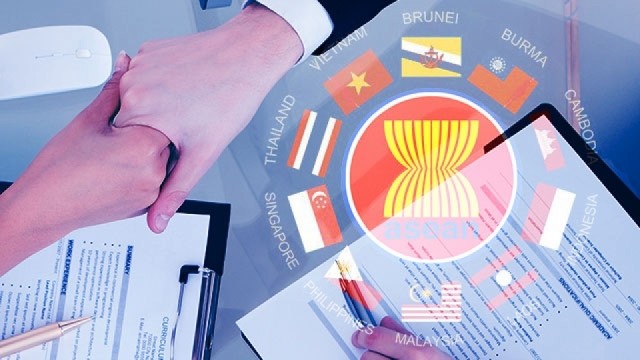 (Photo: enternews.vn)
This year's new-generation FTAs have removed tariffs on many commodities and liberalized labor within ASEAN.
In 2018 Vietnam signed and ratified the Comprehensive and Progressive Agreement for Trans-Pacific Partnership (CPTPP) and completed the legal review of a Free Trade Agreement with the EU, opening up many new opportunities for businesses.
Robert E.Moritz, Global Chairman of the PricewaterhouseCoopers (PwC), praised Vietnam's efforts to offer attractive business opportunities. That's why foreign investors want to invest in Vietnam.
Moritz added that according to PwC's survey, Vietnam is one of top 5 countries that Asia-Pacific enterprises want to invest in. This is considered strategic significance.
To benefit from the agreements, Vietnam"s exports need to meet consumer habits and tastes in quality, packaging, and design. And Vietnamese companies need to learn foreign legal, technical, and food hygiene and safety standards.
Nguyen Thi Huyen, Director of the Star Aniseed Cassia Manufacturing and Exporting Company (VINA SAMEX), said: "The EU is a demanding market with strict quality standards for imported products. But it has a great potential, so we have to visit each European country and supermarkets there to study future consumer trends."
Vietnamese enterprises have begun to adapt to technical barriers in the international market. They have assessed purchasing power, taste, market segment, and population to design appropriate business strategies in addition to restructuring their production.
Pham Van Cuong, Director General of the G.O.C Food Processing Export Company, said: "It's important to understand that exporting to the EU market will improve the company's management capacity. My company, for example, has only two people doing logistics, but they can handle customs declarations for 4,000 containers per year without difficulty. It will be easier to export to markets like the US, Northern Europe, Japan, and South Korea once you meet the European standards because most of those countries use the European standards."
Vietnam has signed more than 10 FTAs and a growing number of Vietnamese firms are making the necessary changes to meet the FTA requirements.
Vietnam has reformed local business and investment environments to adapt to integration. It has applied high-tech to administrative procedures, upgraded its payment infrastructure, and diversified methods of online payment. Many barriers to business have been removed.
Vietnam's total trade turnover this year is projected to be at 480 billion USD, of which exports will total 239 billion USD, up 11.2% from last year. Exports to countries with whom Vietnam has signed FTAs have seen particularly high growth rates.
Nguồn: vovworld.vn