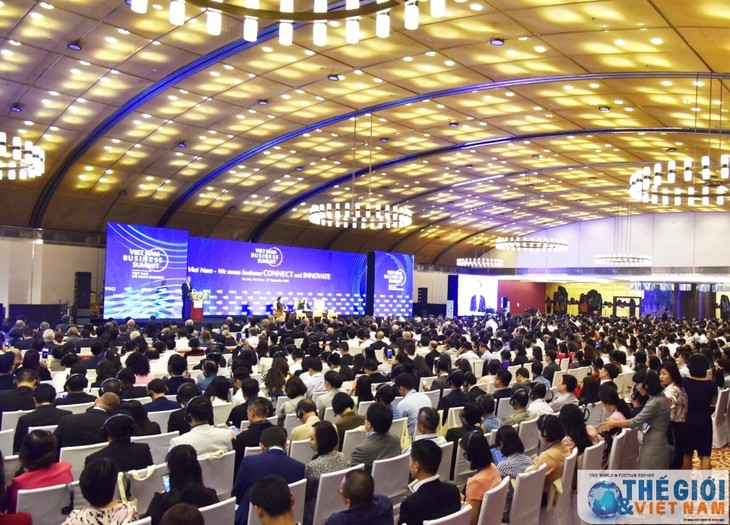 An overview of the WEF ASEAN 2018 conference (Photo: Nguyen Hong /baoquocte.vn)
During more than 30 years of renewal, Vietnam has implemented policies on opening the market and increasing integration. But statistics show that only 21% of Vietnam's small and medium-sized enterprises have taken part in the global value chain, much lower than the 46 percent in other ASEAN members. The proportion of Vietnam's added value in the global supply chain hasn't yet been on par with its potential or its determined target.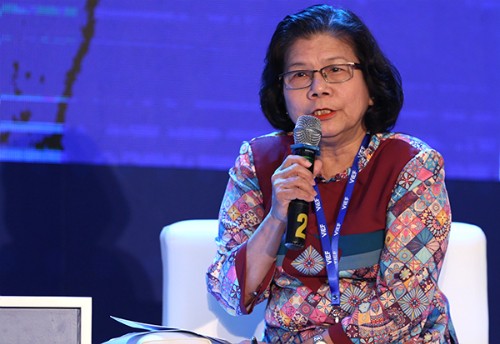 Vu Kim Hanh, chairwoman of the Vietnamese High Quality Product Business Association (Photo: vnexpress.net)
Vu Kim Hanh, chairwoman of the Vietnamese High Quality Product Business Association, said: "We are slowly resolving the difficulties facing our integration into the world economy. Production phases in each company have found it hard to connect with each other. Companies in the same field also lack connection."
At the Vietnam Business Summit in September, Prime Minister Nguyen Xuan Phuc pointed out these challenges. He said although Vietnam has gained initial success in global supply chains, Vietnamese businesses have only joined these chains in fields such as assembling or product packaging, which are lower in value and lack sustainability in supply chains.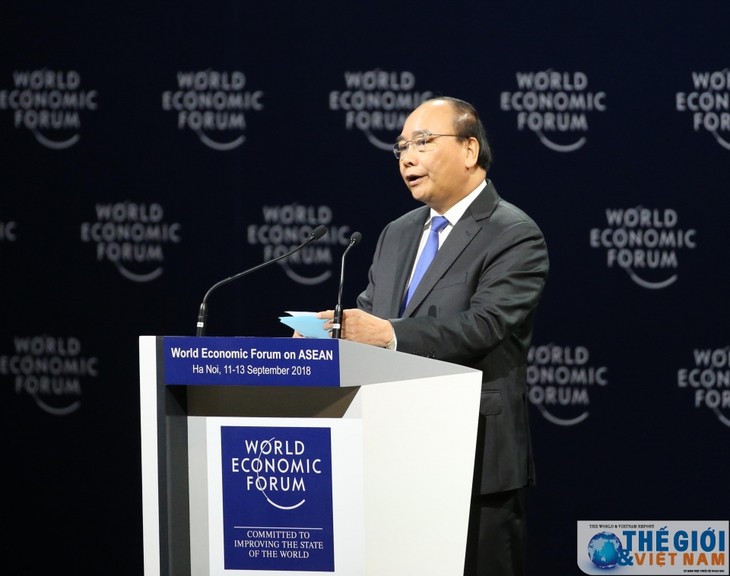 Prime Minister Nguyen Xuan Phuc at the opening ceremony of the WEF ASEAN 2018 conference (Photo: Tuan Anh/baoquocte.vn)
"Facing that fact, Vietnam needs to move to a higher position in global value chains and strengthen the connectivity between Vietnamese and FDI businesses. Vietnam is implementing a policy to link domestic and foreign businesses," said Mr. Phuc.
The government has pledged to support businesses and development reduce business conditions and logistical costs.
Vietnamese businesses have improved their management capacity and expertise and pursued long-term visions. They now focus on improving product quality and increasing the application of IT to link production networks and supply chains to enhance their competitiveness.
Vo Tri Thanh, Director of the Institute for Brand and Competitiveness Strategy, said: "Now businesses and lawmakers have become well aware that joining a supply chain needs not only to cut costs but also increase productivity and competitiveness. It's necessary now to apply a digital shift which naturally means digitization and super-connection which help connect physical production, service, goods, and distribution."
Vu Tien Loc, Chairman of the Vietnam Chamber of Commerce and Industry, said: "VCCI will work closely with the government to realize the goal of moving to a higher position in the global chain. We have a Business Information Center which supports businesses to digitize their management and trading."
Vietnam has a stable political environment with high economic potential, an abundant workforce, the best-trained and youngest labor structure in ASEAN, and ever-greater participation in free trade agreements. All of these factors are helping Vietnam participate more deeply in the world market.
Nguồn: vovworld.vn